The Master
Mr Laurence King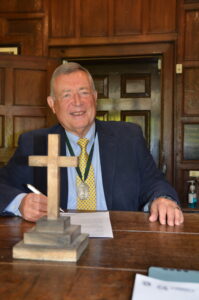 Laurence was born in Surrey and moved to Abingdon with his wife Barbara in 1981.
Laurence's career was spent working for some of the country's major retailers; Debenhams, The Burton Group, The Arcadia Group, BHS and The Kingfisher Group. Initially as a Company Secretary and then moving through audit, finance and risk management, then in 2002 he became a director of B&Q. Before retiring from corporate life he  spent  time in France working for B&Q's sister company Castorama. Then followed eight successful years as a consultant working for the Oris Group of companies based at Harwell and was also a non-executive director of a Manchester based facilities management company.  Laurence's experience within his various career roles and local interests will enable him to contribute his time as a Governor to the principal aims of Christ's Hospital.
Laurence is a Trustee of The Abingdon Bridge a local charity which supports young people in challenging circumstances.
He is a member of St Michael's and All Angels Church in Albert Park, previously a Churchwarden and currently a member of the choir.
A keen golfer. A theatre goer who also enjoys most forms of music, but particularly traditional English Folk and acoustic-roots music.
Laurence has served as Master since January 2021 and Governor in Charge of Almshouse Property since August 2021.