2022: Heritage Weekend 2021 will take place in Abingdon on September 17th and 18th.  The Charity's Archivist will be on hand to open The Long Alley Hall for an exhibition from 10am to 4pm on Saturday 17th only.  This year's theme is 'Inventions'.   All are welcome although access can be difficult for those with very limited mobility.  (Mobility Scooters and wheelchairs will not be able to access the Hall, but can be parked in the Church yard grounds temporarily whilst the exhibition is viewed).  There are no toilet facilities onsite.
Please access the Hall via the central gates to Long Alley Almshouses.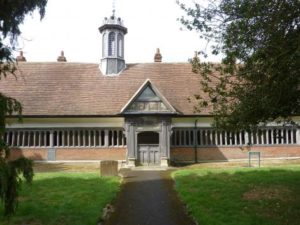 Past Events 2021:  Friday 30th July, 1-3pm – Open Garden Event – celebrating 75 years of the Almshouse Association – What was a very rainy day, turned into a great success.  The Long Alley gardens, and almshouse and the Hospital Hall were be open for viewing and around 150 people of all ages came to look around.   Whilst holding tightly to the gazebo, light refreshments were served in the gardens by staff, governors and residents!   It was lovely that so many people braved the weather to visit and everyone seemed to enjoy the event.  We are very grateful to the Mayor Ms Cheryl Briggs who attended with her consort, Ms Halima Brewer.